Mobile Game Development

Smartphones have already become powerful enough to compete for the attention of gamers. As a result, mobile games now account for 51% of the global gaming industry revenues, followed by console and PC games, and mobile game development has become a profitable service sector.
But not every game becomes a masterpiece. To succeed, it is not enough to create something similar to the one that has already rocketed and won awards. It is necessary to study the market before translating an idea into a completely functional product. In 2019, the top-rated mobile games generated ten times more revenue than those with average ratings.
Most people play to kill time, but for some, it is a fascinating hobby. In general, this category of applications covers an incredibly wide audience. Most likely, you are familiar with Angry Birds, Clash of Clans, and Plants vs. Zombies. These games have prompted many startups to dive into the industry and create a mobile application or game, despite the fact that this requires knowledge of technology, creative thinking, and the ability to effectively build technical processes.

Important stages of mobile game development
Would you like to know about mobile games development, where to start, what stages are required? To create a quality game that can become successful, you need to do the following:
Study the market, come up with an idea.
Choose the category of the future game.
Elaborate the process and mechanics.
Choose the platform (OS).
Create a magnificent design.
Build a monetisation plan.
Develop a mobile game or order it.
1) Idea
Start by thinking about your idea, as this important step will help your future success. Keep in mind that experienced game devs have already implemented thousands of ideas, which means that you need to offer something original or familiar but in a new wrapper. The main thing is to count more on a mass audience. Remember about the people who will play the novelty you have created.
Before you create a mobile game, decide what game it will be and what your target audience is. Choose a genre: arcade, simulation, action, strategy, or RPG? Think about the age of your audience: do you want to attract young people or middle-aged people? Answer these questions and then move on.

2) Game category selection
Hyper casual is a category of games without a storyline and with simple controls. The short duration of the session, together with the simple game mechanics, makes them addictive. However, on the Apple App Store and Google Play, the majority of the most popular games are midcore and hardcore.
Midcore means more complex games than casual ones. They require strategic thinking and usually include ranking among other users. Clash of Clans is an example of a popular midcore title.
Hardcore is for players who have a strong interest in certain genres and spend a lot of time playing games with a high level of difficulty. Honor of Kings is an example of such a game.
Nowadays, titles that sell well on app stores are made up almost entirely of midcore games. They are built and supported for a loyal audience, and their developers keep doing this for months. At the same time, the popular free games are mainly represented by hyper casual.

3) Involvement in gameplay
The factor of some gambling addiction keeps most of the users. You can get people involved in the game by making it easy, with a gradually increasing level of difficulty.
Players often lose interest in playing too long. To fuel the interest, use the following techniques: short levels with plenty of unlockable content, various bonuses, and secret items. It's all about keeping users interested.

4) Platform selection
When developing games for mobile devices, you must choose a platform (operating system). First of all, developers strive to create a mobile game for Android, and a little less often, they want a game for iOS. A hybrid model could be a more convenient choice, but cross-platform development will lead to extra costs.
Your target market must be the deciding factor here. Focus on the OS that paying players will use. If additional costs are not a problem for you, then support for both operating systems will be a better choice.

5) Create an amazing design
Designing a game is much more difficult than designing a mobile application. It is necessary to take into account a thousand nuances and pay attention to details. Perfection is made up of little things, and sophisticated users will definitely notice this. Ultimately, a stunning design can be a highlight that distinguishes the novelty from competitors in the market.

6) Planning a monetisation strategy
There are 3 million applications on Google Play, but only 3% are paid. The freemium monetisation model dominates the market today. It implies that the application can be downloaded for free, but the entire variety of content and features is unlocked in it only for money. There are other ways to monetise shareware games:
In-game advertising. Most mobile games use advertising as their primary monetisation strategy. However, it has become the most annoying factor, as it is more repulsive than beneficial. Many hyper-casual games have received low ratings and a lot of complaints because of annoying ads. As a result, players believe that mobile game development studios pursue only one goal — to make money on advertising, which entails sad consequences.
Rewards for viewing ads. This is a more attractive and socially acceptable format, as it allows users to view ads in exchange for various rewards, for example, in-game currency or an extra life.
Monthly subscription. Although this method is often ignored, it is predicted that it will soon become the most relevant way to monetise games in most genres. It works like this: upon a subscription, a small amount is debited every month from the user's bank card linked to the account on the store. It is convenient for players: no need to watch ads at all. They only need to pay a little every month and enjoy the game with bonuses available by subscription.
In-app purchases. Most grossing games use this kind of monetisation. It avoids annoying and intrusive ads and also provides players with the ability to use the in-game currency for different purposes.
7) Development or ordering of a mobile game
The last step is directly developing in-house or outsourcing a mobile game development company. You will need a team of experienced programmers who have the necessary skills to turn your idea into a profitable business. Game development is already difficult, and creating amazing and memorable projects requires a professional approach.
Polygant has been developing mobile games and applications for 9 years. We are ready to take on a project of any complexity and implement all your ideas, plot, and characters there. With the support of our specialists, the game will become unforgettable. to discuss a new masterpiece.
Engines for creating mobile games
The gaming industry has provided developers with many powerful environments, programs, and tools. Among them, the following five engines for mobile game development have become popular: Unity, Unreal Engine, AppGameKit, Marmalade SDK, MonoGame.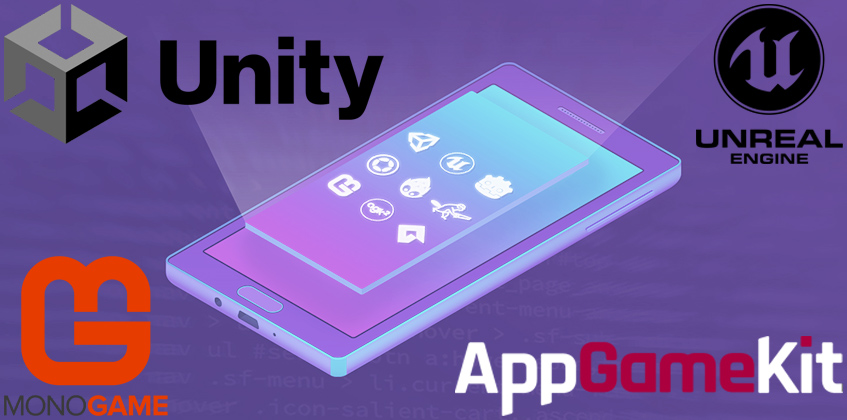 Unity
Unity is an integrated development environment that offers multiplatform game creation tools. It includes a large number of functions, pre-installed models, textures, documentation. Developers use this environment to create any title — from simple to AAA class. Advantages of developing mobile games with Unity:
Creating objects, adding various components to them.
Functional graphics editor.
Built-in play mode for fast debugging.
Support for multiple platforms, APIs, and technologies.
Unreal Engine
Unreal Engine is a time-tested engine for creating games primarily of the AAA class. World-class game devs use it as a basis for their masterpieces. It allows you to develop games that will be supported by most platforms.
There are two main tools used to develop a mobile game on the Unreal Engine: traditional C++ and Blueprints visual scripts, which help you quickly figure out the game logic. The engine is designed to meet the needs of both giant and small game projects.

AppGameKit
AppGameKit is a powerful set of programs for creating mobile games for different platforms. It is suitable for any independent development studio. Advantages of AppGameKit:
Lots of ready-made solutions for easy development.
Fast compiler.
Cross-platform solution.
Built-in monetisation tools.
Marmalade SDK
Marmalade SDK is a cross-platform game development toolkit that uses C++ code. Its main principle says: write once, run anywhere. It includes libraries, code examples, and tools to simplify programming, testing, and application deployment. Advantages of Marmalade:
Graphics rendering using OpenGL or Marmalade Studio.
Using Android optimisations in the source code.
Open architecture and core components.
High performance.
MonoGame
MonoGame is a set of tools for building cross-platform games with a class architecture similar to XNA 4.0. It works in C# and supports any .NET languages, so if you already know them, then creating mobile games with MonoGame will not seem difficult. There are many tutorials written for MonoGame that will help you create your first project.
The platforms use shaders written in different languages. That is why MonoGame has developed its own shader language, MGFX. Also, this toolkit supports .fx files (effect editing format by Microsoft).

How to avoid mistakes in development
The mobile and gaming industries do not stand still. The progress brings new technologies such as augmented and virtual reality. New opportunities are opening up for developers. Now everyone is striving to create a game for a mobile phone with trendy features. For some reason, many people make mistakes during development. Here are the most common ones:
Overloading with plenty of functions. Do not include all the features in your first release. It is better to release a mobile game in stages. Each subsequent version with two or three new features will give an idea of user behaviour and suggest which improvements are worth adding.
Poor monetisation policy. Consider a monetisation method ahead of time to match your goals (such as achieving profitability as soon as possible) and market demand.
Loss of interest by users. It takes a lot of effort to retain players. Before attracting new users, find out why old ones are leaving. The reasons may include bugs, lack of gamification, complex interface, and so on. Users can even get bored with the same type, so do not forget to add new levels, characters, and design elements. Use player feedback as a guide to troubleshooting bugs and introducing new ideas.
Poor promotion. Even a perfect game won't pay off without promotion. To make it popular, you can't do without marketing promotion costs. With a large budget, you can order reviews on famous blogs, advertise on social networks and game portals.
Inappropriate development team. If you cannot program yourself, then decide who will do it. Do you need a development staff? How many employees should you hire? Will you hire freelancers to work remotely, or is it better to entrust everything to a company that will develop a turn-key mobile game? When you need a serious approach without neglecting quality, and the process should not take months, then it is better to turn to professionals at Polygant.


We are ready to accept contracts from scratch, from the stage of developing the terms of reference, or to improve a semi-finished game.
Where to order a mobile game
Our specialists have knowledge and experience in the development of applications for any operating system. We initiate the process with a clear understanding of props and specifications, then plunge into an agile development cycle, and strive to release the mobile game on time. We work on all components and types of games, including the following:
writing and modifying a game engine (2D, 3D);
game core development;
creating game assets;
entertainment apps;
educational apps in a game format;
full integration of advanced gaming features and game porting;
games on social networks, integration of social networks with games.
How much does it cost to develop a mobile game?
Creating a game is the most difficult and time-consuming process. Two inexpensive freelancers, for example, a game designer and a full-stack developer, are not enough here. Such work requires a qualified team of specialists:
game designer;
screenwriter;
level and map designer;
animator;
back-end developer;
front-end developer;
audio engineer;
QA and testers.
The stages of creating a mobile game always include the following:
Writing a design document (concept) — from 20 hours.
Game design (gameplay, mechanics) — from 35 hours.
Writing a script, dialogues, and interface texts — from 20 hours.
Level and map design — from 30 hours.
Drawing arts, sprites, textures, and decorations — from 25 hours.
Creating models, animation, kinematics, and special effects — from 25 hours.
Back-end development — over 55 hours.
Front-end development — over 40 hours.
Sound effects and accompaniment recording, sound mixing — from 20 hours.
Testing — about 30 hours, depending on the number of platforms and functionality.
Based on this data, the cost of developing a mobile game starts at $100,000. This is the cost of the MVP, and then everything depends on the factors that complicate the work. Please note that after the completion of the development, the game must be supported: you must fix possible bugs, refine and implement new functions, and create new content (levels, characters, items). This post-release service is charged separately.
Polygant creates engaging games due to thinking outside the box. We practise this at all stages of the work to reinforce our strength — the development of mobile games to order. your ideas and wishes, and we will immediately start implementing them in your unique project!