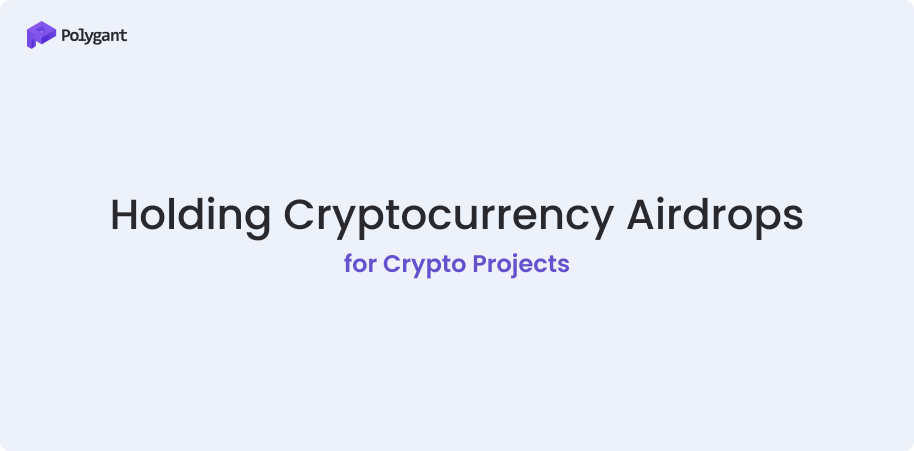 For every crypto project, a cornerstone resource is its community. An active, loyal, large community is half the battle. It can generate a snowball that will drive the project to success. The bigger and more engaged the community, the more new members it attracts — and the higher value the project's cryptocurrency gets.
In view of this, various tools that help enlarge and vitalise a community become a must for any crypto project. And an airdrop is one of the powerful instruments in this context.

What an airdrop is
An airdrop is a distribution of free coins or tokens. To get them, users don't have to pay or make any effort. Even if there is something a user should do, it is usually more than easy. For example, a project might ask users to share a post on social media.
Projects hold airdrops to attract more new users and boost interest. And there is nothing as powerful as something given away for free.

Evolution of airdrops
Airdrops have been a popular crypto project promotion tool since 2016. A new burst of interest was associated with the ICO market boom. Project teams would distribute small batches of coins amongst the users who followed the brand page or shared a post about the project's ICO on their social media profiles.
Today, airdrops are still used as a cost-efficient and powerful way to spread information about a project and heat up audience interest in a coin. However, a variety of new forms of this instrument have emerged in recent years.
Since 2021, DeFi project started distributing a significant part of governance tokens during airdrop campaigns. These tokens are usually distributed amongst the users of decentralized exchanges or protocols with which the airdropping project cooperates. By doing this, a DeFi project manages to:
Quickly build a community
Generate demand for its tokens
Ensure a high level of decentralization/li>
Decentralized exchanges also utilise airdrops to boost user activity. Event major crypto exchanges employ this fintech marketing tool. A shining example is Uniswap's airdrop.<

Landmark airdrops

One could barely name the greatest airdrop campaign in history, just because cryptocurrencies are extremely volatile. You can get a bunch of tokens for a couple of hundred dollars only to see these coins lose their value in a week. Or you can be a lucky one. Anyways, don't trust these loud statements about 'the largest airdrop in the history of crypto market.'
And still, we would like to mention some crypto airdrop campaigns that placed themselves on record:
Date
Project
Coins distributed
Value in USD (effective airdrop day)
October 2016;
June 2017;
November 2018
Stellar
3,000,000,000 XLM;
16,000,000,000 XLM;
500,000,000 XLM
5.6 million;
465.8 million;
125 million
February 2019 – February 2025
BitTorrent
97,020,000,000 BTT (distributed in parts each month)
83.7 million
September 2020
Uniswap
150,000,000 UNI
520.5 million
March 2022
Bored Ape Yacht Club
150,000,000 APE
1.28 billion
How an airdrop is beneficial
An airdrop is a process that yields benefits to both parties. Distributing an allocated stash of cryptocurrency, organisers use these tokens as printed advertising flyers. This is what helps them save hugely on marketing activities (which are critical at the beginning) and elevate demand for the new cryptocurrency.
Participants who receive tokens also benefit from the campaign. Applying zero effort, they become holders of a potentially profitable cryptocurrency. The only thing they need to do is check their balance, make sure the promised tokens have landed, and wait for the price to soar. Seasoned investors should also check the project's website or social channels to see how it grows.

Community activation
One of the reasons for a project to host an airdrop is an intention to revitalise their community. During an airdrop, new tokens are given both to the existing stakeholders and those who haven't seen the project's cryptocurrency before. This will inevitably spark the audience's interest. Some of those who received their coins will search for more info about the project, learning more about the solution, update, a new stage, or the first launch. And this is what organisers usually plan to achieve.
Tokens can be distributed amongst the current social media followers or forum members, or amongst the general public. The latter implies that the project sends tokens to active wallets. Such a move will activise not the existing community but prospects who can convert into long-standing users.

Revenue boost
It's not enough just to issue a token. One needs to do everything they can to market it. A simple way to do it is just distribute it. A new cryptocurrency landing on a user's wallet will motivate them to not just learn more about the project but start trading its token. The latter, which affords ground for the direct use of the cryptocurrency, is way more valuable to developers.
Projects offering people real benefits gain traction quickly when the token turnover increases. A constant circulation of the cryptocurrency helps developers understand which processes need improvement or adjustment.

How airdrop campaigns are held
A common algorithm looks like as follows:
Setting goals. These campaigns are aimed both at attracting new customers and nurturing the existing audience. In some cases, free coins come as a reward for something — for example, taking part in a contest.
Checking and providing information about the project. Make sure the user who will receive your coins in their wallet will be able to learn everything they need about your project on the website — to find out whether it is beneficial to them.
Defining the pool of beneficiaries. The size of this privileged group depends on your goal. If you use the coin as a flyer, then distribute it amongst as many prospects as you can. Otherwise, airdrop your coins to those who seem most interested in the project.
Allocating the coins to distribute. Calculate how many coins you can give away without affecting your project. Remember that they can be lost for good — making the issue volume lower than announced.
Defining the conditions for receiving coins. Some airdrops set no specific terms or requirements. In other cases, projects ask participants to do something simple that takes up to 10 or 15 minutes.
Distributing coins. So you just need to send your coins to some wallets. This is where the active stage begins. You will need to keep track of feedback and interact with your customers.
Marketing. As an organiser, you should cooperate with specialised platforms to promote your airdrop. Announce the campaign on your project's social media profiles.
You don't have to stick with this very algorithm. Some steps can be altered.
Planning to airdrop your cryptocurrency? Polygant is ready to build a one-of-a-kind campaign. We have great experience in distributing tokens. Tell us about your plans on Telegram, and we will take care of everything for you.
Types of airdrops

Airdrops in the way they are campaigned. Here are the four most common options:
Standard. No conditions. Or a project may ask participants to do something simple. It's easy for organisers to hold such an airdrop, and for participants to receive some appealing coins.
Bounty. A more intricate campaign in which participants need to do what is required within a set time frame. The tasks are often limited to shares, likes, follows, or thematic messages. Participants receive coins as a reward.
Exclusive. Exclusive airdrops are held amongst those who are related to the project. In this format, organisers often don't require any specific activity from the involved participants. They just have to perform the spoken or unspoken actions before the giveaway.
Retention reward. This format is similar to exclusive airdrops with the only difference. Here, stakeholders need to hold a certain cryptocurrency. Such airdrops usually take place when developers launch a new project and want to attract users from the existing one.
There are plenty of potential occasions for an airdrop. This is why active users often find coins of unknown source in their wallets.

Airdrop through partners
Partnerships with larger projects serving a big audience will help a project find interested customers for its first airdrops. This is a smart marketing move that can enhance the quality of the entire event and contribute to the motivation of attracted investors.
At the beginning, collaboration with partners is often limited to informational support. But it is enough to allure part of a partner's audience for further interaction. Besides that, there are lots of other support options — for example, a partner can provide a resource for collecting and processing user requests.
Partnering with projects launched on them, crypto exchanges often airdrop coins to users holding an exchange's native token. In fact, this is a process of rewarding users with one cryptocurrency for retaining another one.

How to promote an airdrop
The first stage is announcing the airdrop campaign on the website and in a newsletter, so the current followers (or clients) learn about the event. Encourage this group of users when they tell their friends about the upcoming airdrop.
After that, come to popular platforms like Reddit. This English-speaking community is often used to promote noteworthy products. In recent years, the members there demonstrate huge interest in cryptocurrencies.
To ensure a stronger marketing effect, start a topic on BitcoinTalk, and chats on Discord and Telegram. Interested members there will ask you about the airdrop and the project. The more convenient the first interaction, the higher the chance these prospects will convert into your users.

Promoting an airdrop on social media
Leveraging the power of social media, you can announce your airdrop in your channels and in third-party groups, chats, and profiles. This is one of the most common ways to promote an airdrop campaign, since social media boast gigantic audiences:
Facebook — 2.9 billion monthly active users (MAU)
YouTube — 2.6 billion MAU
Instagram — 1.5 billion MAU
Twitter — 0.4 billion MAU
Promoting a project on social media is a similar process to promoting it elsewhere. Be sure to present the offering the right way, otherwise even an interested investor seeking for new airdrops won't be eager enough to jump in. Respond to reviews and comments, and stay online to reply to direct messages.

Maintaining community interest
A formed community isn't a loyal audience yet. You need to nurture it to fuel member activity that is necessary for your crypto project's success. Regularly share helpful and noteworthy materials, host live sessions with developers, and respond to requests and questions.
You can continue distributing your cryptocurrency, sending tokens as a reward for regular tasks. This will boost interest amongst your audience, which is likely to convert into clients. Don't abandon your project, like some airdrop organisers who never launched a complete product. And notify the investors about the current and upcoming stages.
Polygant has been developing and maintaining crypto projects for 10 years. We are also concerned with promoting projects and managing communities. Use the form to contact us so we can offer you something that will drum your project up.