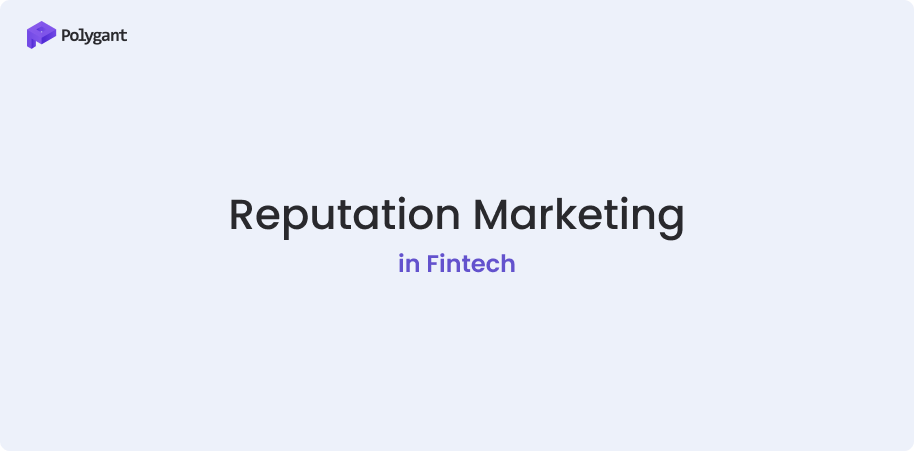 A company's business reputation is what can give it a huge edge in a competitive market. In particular, a good brand image can boost the loyalty of the existing clients and attract more — who will trust what other people write about you on the web.
But imagine that one searches for some information about your enterprise and only finds all the negative feedback. Apparently, people will avoid you. Or, there might be too scarce—or no—information about your company. People won't trust you either. Even your potential customers are likely to hesitate when deciding to buy your product if they can't find any reviews.
This is why reputation management and marketing have turned into a must for fintech projects in recent years. We will tell you what it is, why companies need it, and how it can benefit your business.

What reputation marketing is

Reputation marketing is a process of creating, promoting, and monitoring positive brand-related content on mass and social media. Considered a new direction in marketing, this field fuses together some elements of online reputation management and brand marketing.
There are 6 types of positive content a business should create:
Feedback. Review and rating websites often appear among the top search results when people seek information about companies. Positive reviews published on such websites inspire trust and prevent negativity.
Articles. Publishing articles on reputable, thematic, and local websites can upscale brand awareness and customer loyalty.
Small stories. Sharing short stories (e.g. a user telling about their experience with your product) in Telegram chats or similar channels also contributes to product awareness and brings more customers.
Reviews. You can improve customer interest in your product significantly by publishing high-quality reviews on selected platforms. A review that seems like something native and personal rather than explicit advertising can deliver an even greater effect.
Videos. Instead of limiting yourself to text reviews, consider publishing videos. They can contain explicit or hidden advertising.
Video reviews. Bloggers sharing reviews on YouTube and other online video platforms can significantly contribute to the brand appeal and company reputation.
Positive content about your brand, which third parties share on social media, mass media, and online forums, can strengthen your reputation on the web.
Here are the places that you can use to build your company's reputation:
Facebook
Instagram
Telegram
YouTube
Local review websites
Thematic media
Problems that reputation marketing addresses
Quite often, companies only start reflecting on the brand reputation when they face a burst of negative reviews, ratings, or other responses. This is a bad way. Having suffered from such a barrage of criticism, companies spend up to a couple of years recovering their good name.
In fact, a poor reputation may even send all your search engine optimization (SEO) efforts down the tubes. If a potential client comes across multiple negative reviews on your company, they are likely to leave you for your rivals. Even if your website is highly ranked on search engine results pages (SERP) for commercial and navigational queries.
For a future client to prefer your brand or product, make sure your online reputation is flawless. This is the key task reputation marketing addresses.
It combines both managing a company's reputation and building a brand. Covering all these fields, reputation marketing tackles the following tasks:
Building a positive image
Boosting brand awareness
Forming a pool of loyal customers
Preventing negative content
Improving your website's SERP positions for navigational queries
Ensure more competitive edges
How reputation marketing is useful for business
There's the one but hefty point about how reputation marketing can affect your business. Your online reputation is the most powerful promotion tool. Ratings, reviews, and user-generated content boost your website's popularity, contribute to SEO, attract new customers, and fill your communities with members. But all this only works if you stick with a powerful strategy.
Moreover, using reviews as a means of advertising, as well as promoting your brand on social media can improve your marketing performance. As proof, here is some statistics based on user surveys:
90% of people say reviews affect their buying decisions dramatically
95% of people think reviews are a more credible indicator that what a brand or a company tells about itself
On average, a client flicks through 5 to 10 reviews on various websites before choosing a product
Users are 70% more likely to come to a company with a positive online reputation than one that has a stained reputation or doesn't have it at all.
These are good reasons to adopt reputation marketing if your company wants to succeed in fintech and increase profits.

Benefits of reputation marketing
Reputation marketing offers the following advantages:
Boosting brand awareness. When your company has a flawless reputation, clients are eager to spread the good word about your brand. This improves brand awareness, since people are more likely to trust other people's opinions than ads.
Driving traffic to a website and community. When you promote positive reviews about your company, you naturally increase people's awareness. Customers will reach out to your company to learn more about its products. This will lead to an increase in traffic to your website, engagement, and CTR.
Enhancing SEO. Building a strong image on the web contributes to a brand's authority and SERP positions. This can happen when you utilise SEO — for example, use keywords in your marketing texts.
Reducing customer acquisition costs. Businesses usually spend a lot of money on attracting new customers. But once you build a good reputation, you can significantly reduce your CAC. Eventually, the cost of acquiring every new customer will be lower as people have already heard about your brand and trust your company.
Increasing income. Most buyers will prefer your company when they see that other customers have already had a positive experience with you. Reputation marketing helps showcase people's opinions in reviews with 4- and 5-star ratings. Subsequently, more people will try or buy your product, which will increase your income.
These are not the only benefits your fintech company can get. Contact us on Telegram or use the feedback form to learn how our reputation marketing manager can help your business.
Reputation marketing strategy

An effective reputation marketing strategy can improve your brand's awareness and image. You need a strategy that would correspond to the general goals and promotion efforts such as content creation, SEO, and community management.
Using an effective strategy, you will be able to promote any positive content about your brand on the web. It will allow you to earn trust, and people to get a great customer experience. In the end, there will be a higher chance that clients will stay with you and recommend your company to other people.
Recommended reputation marketing practice includes data collection and the following 6 stages.

Stage 1. Evaluating the current reputation
Before you embark on your reputation marketing strategy, check the current health of your brand's reputation on the internet and print media. Have a walk through all the sections of your website and websites of your rivals. Flick through articles, detailed reviews, and forum threads about you and your rivals. Read some reviews on your competitors and compare them to yours.
Such evaluation will help you find out what people love or hate about a specific brand — and eventually identify the areas that need improvement. As a side effect, you can come up with a bunch of new promotion ideas to make your brand stand out from the crowd.

Stage 2. Identifying the areas of improvement
By analysing your company's reputation, you can find what you need to work on. Take note of any cases when people left helpful reviews or mentioned what your brand or product could do to be better. Use these insights for future improvements.
For example, if you noticed a review on a forum in which someone said your website could be more user-friendly, you might want to revisit your website's functionality. After that, you can start promoting the revamped website.

Stage 3. Monitoring and responding to reviews
Keep track of feedback on your brand or product. Read reviews and comments, and study all relevant messages on social media and other websites. It's easy to monitor hashtags on social media. People use them to mention brands and thus draw attention, share their experience, or ask for a response.
Responding to reviews as soon as they appear will help you find out what people are disappointed or what they praise you for. Deal with any case of discontent and eliminate the cause. Encourage the praise.

Stage 4. Building a plan to eliminate negative feedback
Powerful reputation protection implies creating a plan that will help you resolve a problem once it emerges. This response plan will allow you to smooth out any conflicts and prevent negative emotions from spreading.
If there are no reviews on your company yet, order some sponsored feedback. Also, have comments at hand to use if negative reviews appear. And if they have already appeared, cover them with sponsored positive reviews.
When someone leaves a negative review in which they describe their displeasing experience with your product, you will have a ready-to-use response. Offer an apology for the inconvenience and explain what you are doing to resolve the problem and prevent similar situations. A bunch of positive reviews, in turn, will thin the negative.
In addition, prepare a media plan you will employ in case someone publishes any bad news about the company based on the negative feedback they found. You can publish a press release or announcement devoted to the root problem, sharing your official position and describing how you are tackling it.

Stage 5. Encouraging brand advocates
If you have clients who regularly leave positive feedback on your product or brand, encourage them every time they share their good experience with other people. Studying a company they don't know, potential customers usually look for reviews and personal stories from other clients.
Ask your repeat clients to share a product review or opinion about your company. In exchange, offer them deals or other personalized benefits. This will stimulate more positive feedback appearing online — all to help you promote your brand and attract your target audience's attention.

Stage 6. Maintaining a positive presence on the web
Building a positive presence means that your brand needs to achieve high awareness online. This will showcase your expertise, boost your company's reputation, and get your website to the top of SERP. This will get you noticed by many potential customers.
To upscale your presence, double down on publishing valuable, unique, and catchy content on your website and social channels. This way, your audience will access industry-specific knowledge or learn more about your product. Share information about your company on thematic websites so people learn about it and find contact info. Be sure to keep this information up-to-date.
This is what we call effective reputation marketing. Polygant is ready to take care of all these aspects competently so that you achieve shining performance on the web. Call or write to us to learn how we will implement a reputation marketing strategy designed just for you.