Artificial Intelligence for Trading
Artificial intelligence may become the cornerstone instrument for developing financial strategies that were previously considered hard-to-predict. It is because never a one trader doesn't beat a machine, as the latter is capable of processing giant data and updating forecasts continuously.
On most exchanges, trading is carried out by robots that make decisions based on the algorithms and realign the strategies in keeping with the updated data. Algorithm-based trading has already become popular, and this led to emergence of the high-frequency trading. Also, numerous hedge funds engage mathematicians to develop statistical models and trading algorithms on the ground of historical data.
However, artificial neural networks have become self-sufficient traders demonstrating better results than exchange bots or algorithms, let alone humans.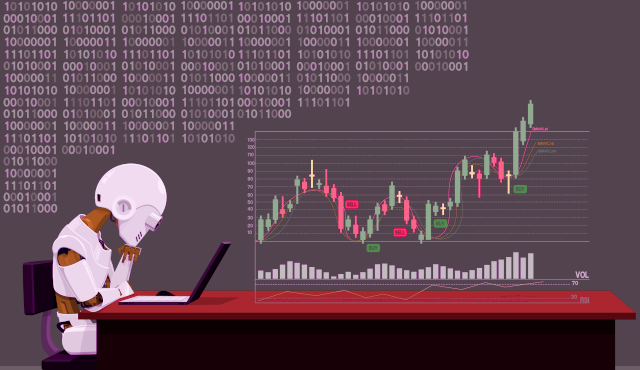 AI in trading today
Market professionals note that trading has grown more complex. They see the explanation in the capability difference: while conventional exchange bots just analyze the input data, AI imitates thinking of a financial analyst who collects and processes data.
Due to advancing influence of artificial intelligence on modern trading, proliferation of machine learning, and computation capability enhancement, specialists have to see lower revenues or even losses.
Compared with legacy trading technologies, AI not just captures data from financial news, social media, or exchange indicators, but carries out regular retesting. This is how AI "learns" to understand global market trends and adjust forecasts based on the optimized and updated data. Besides, AI cannot experience human emotions such as greed and fear, or recline on irrational guesses.
What AI is capable of to date
Over the recent years, the number of projects heavily employing artificial intelligence has grown significantly. Here are several types of operations exercised by AI for trading companies and their customers:
Developing exchange algorithms based on technical analysis.
Searching for new big data processing methods to use them in traditional analysis.
Combining machine learning with financial examination to design robotized decision-making advisors.
Developing investment strategies for hedge funds.
"Unmanned" end-to-end investment fund management.
Analyzing big data captured on social media and thematic websites – including customer sentiment and reviews – for further forecasting.
Compiling analyst rating and processing their forecast for further selection of the best trading strategies.
Developing economical models during high volatility and upon market disruptions.
Detecting market conspiracy and manipulation.
Profitability with involvement of AI significantly exceeds average market profitability. AI algorithms turn out to be more efficient than a passive "buy and hold" principle.
Artificial intelligence to transform trading
Lots of exchange traders are convinced that intelligent trading instruments and robotized advisors are the thing of the future. Safer and more transparent, they are easier to use. These technologies are what will help customers manage assets wisely and invest competently. AI is already redesigning trading rules.
If you are interested in using artificial intelligence and machine learning for trading purposes, Polygant is ready to develop software of any complexity for you. To evaluate the scope and time of development and to get detailed information about services, please . Our engineers will contact your shortly.