Artificial Intelligence for FinTech
This is the financial sector which was one of the first to realize the true value of AI. Artificial intelligence has already conquered this industry and now supports fintech enterprises in improving customer experience quality and introducing new services.
Growth of AI made conventional financial institutions (e.g. banks, credit and insurance organizations) to adopt this technology to retain customers and preserve their market share.
Most financial institutions have full customer data but they fail to efficiently use them to forecast financial needs or personalize services. These organizations have to figure out ways to combine such valuable insights with advanced technology, and this is where AI-based solutions come into action.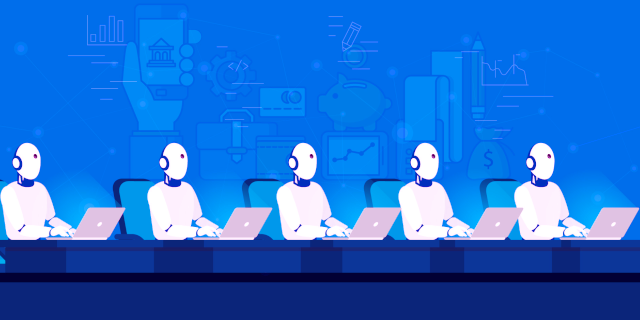 AI facilitates financial service improvement
As a result of intensified financial market competition and grown customer expectations, most forward-minded companies have "authorized" AI to participate in their operation. It turned out to be a reliable assistant enabling to outpace competitors and personalize services at friendlier prices.
It was artificial intelligence what drove the new trend of financial services and solutions in common fields:
Credit institutions benefit from effortless AI-powered person identification, solvency assessment, and fraud detection.
Insurance organizations enjoy automated insured loss requests, risk evaluation, and fraud detection.
AI-based solutions help banks improve customer experience and provide online service. This involves the use of chat bots, voice or virtual assistants not only for customer informing, but also for transaction processing.
Fintech startups employ AI-powered advancements to compete or establish B2B cooperation with the above company types. In B2C there appear agents engaged in providing complex services made of smaller ones rendered by financial institutions.
Also, it must be noted that artificial intelligence can not just solve financial problems, but also streamline any business processes. For instance, it will be good at automating internal procedures, decreasing time of processing unstructured and big data, filling forms or reports, and reducing repeated costs. AI is self-learning: it rapidly accumulates knowledge and makes human-machine interaction seamless.
Benefits to financial service consumers
Customers of fintech companies will also enjoy advantages of artificial intelligence in satisfying their needs – this will eventually drive the loyalty level increase.
New smart investment and budget management tools will enable individuals and organizations utilizing services of fintech enterprises to reduce costs and enhance revenues. Meanwhile, robotized consultants will recommend appropriate investment projects based on profile data. Such a measure will facilitate achievement of financial objectives.
Artificial intelligence to transform fintech
Amidst severe competition in the financial sector, these are AI-based apps and software that will differentiate your enterprise and engage new customers.
Want to utilize AI to consolidate on the financial market? Polygant is ready to create the appropriate solutions for you. To evaluate the scope and time of development and to get detailed information about services, please . Our engineers will contact your shortly.