Speech Recognition System
Speech recognition is the process of converting spoken speech into machine-readable input. It is considered one of the most difficult technical tasks associated with artificial intelligence systems. Machine speech recognition and audio responses are already widely used by businesses and ubiquitous in our daily life.
A decrease in the cost of computing resources has led to leaps in speech technology development. Today, it has become profitable to create large neural networks and use them to process data for speech recognition and other tasks. People have already stopped noticing that they communicate with a machine, not a person, when they call a telecom operator or a bank.
The latest advances in machine learning are used for high-quality speech recognition. Algorithms of neural networks with an advanced level of learning and large lexicons help achieve great accuracy in recognition.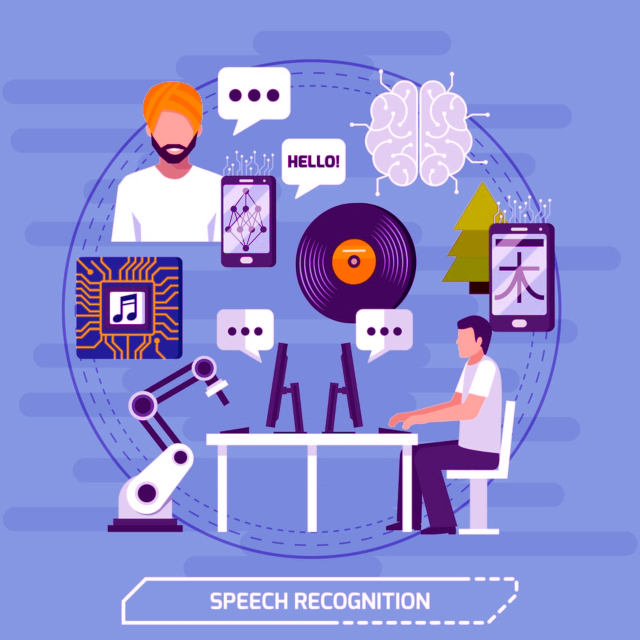 Where to apply speech recognition systems
Today, there are 4 main areas where the technology of speech recognition with machine learning has proven beneficial:
Recognition for voice service and interactive voice response systems. They are common in call centres, self-service points, and online banking. Everyone is familiar with their greetings and voice menus.
Voice recognition and identification. Large banks use it for the identification of customers by voice print, for voice signatures, and in security systems.
Speech analytics of calls and negotiations. It is designed to assess customer reviews and satisfaction, improve the quality of operators' work, and identify trends in contacting support services and sales departments.
Voice control. We use voice control in many areas. In everyday life, we navigate and interact with smart homes, electronic devices, even email and browsers. In the automotive industry, it is used for GPS and it will be helpful for driving unmanned vehicles in the near future.
What IT giants offer
Leading tech companies, namely Apple, Microsoft, Amazon, and Google, have been offering their speech recognition services for a long time. Namely, Siri (2011), Cortana (2014), Alexa (2014), and Assistant (2016), respectively.

Apple Siri
Siri was the first mainstream voice-activated virtual assistant. In October 2011, when Apple first integrated it into the iPhone 4s, such a mobile assistant was a breakthrough. It allowed people to order a taxi by speech, buy a ticket to a concert, or search for reviews of a restaurant of interest.
Today, Siri's capabilities include advanced speech recognition features: fact-checking, translating texts, scheduling and making appointments, transferring money between bank accounts or cards, comparing stocks and monitoring quotes, managing other smart devices, and more. And thanks to new developments from Apple, such as the Overton machine learning system and the Shortcuts app, Siri can be further improved.

Microsoft Cortana
Microsoft was the second corporation to introduce a voice-activated virtual assistant called Cortana. It had been developing the assistant since 2009, but it did not become a pioneer since Cortana was released only in April 2014 and at first on desktops.
Today, Cortana is also supported on smart speakers and smartphones. It can handle a variety of tasks, from helping with calendar entries and taking notes to ordering groceries from an online store.

Amazon Alexa
For the first three years, the Alexa voice virtual assistant was supported only by Amazon's products. Since December 2017, the company has been allowing businesses access through the Amazon Web Services cloud. Amazon partnered with Intel to release Alexa Voice Service development kits, allowing third-party companies to embed Alexa into their devices.
AWS also includes Amazon Transcribe, a simpler speech recognition and speech-to-text service. It allows developers to add speech transcription features to their applications. The service uses deep learning to automatically recognize speech and quickly and accurately convert it to text.

Google Assistant
Google also has a voice-activated virtual assistant called Google Assistant. It has a wide variety of functions. For example, it can make payments via Google Pay or troubleshoot a smartphone. Unlike analogues, it can participate in a two-way conversation using a natural language processing algorithm. Google also provides an SDK through Actions that allows third-party developers to embed voice functions into their AI applications.
Besides Assistant, there is another Google speech recognition product called Speech-to-Text. It is an API for connecting to artificial intelligence via the cloud. Deep learning neural network algorithms are used for speech-to-text recognition. The tool works with 120 languages and allows you to control with voice, transcribe audio from call centres, and process streaming or pre-recorded audio in real time.

How to improve the quality of service
There are many use cases for speech recognition, but most businesses would like to manage the flow of contacts to filter potential buyers and thus influence sales. An automatic speech recognition system can increase customer loyalty through personalized advertising and prompt responses from call centres. After all, the information that you need is already in the customers' speech, and you need only process it.
Such systems are not limited to the simple running of incoming and outgoing calls. They not only save call operators time and reduce their workload, but also facilitate the work of other departments and services within the company:
for management, they improve the quality of processing orders;
for couriers, they speed up delivery;
for service centre employees, they identify problems.
Replacing outdated methods with at least one speech-to-text recognition program allows a company to reduce the cost of implementing and using call centres by 35%. And the analysis of the data provided by such a program helps increase sales at least twofold.

Introduce speech recognition into your business
Polygant offers advanced speech recognition technology solutions that can help you optimise the procedures of your business. Our developers are ready to create or integrate a speech recognition program of any complexity and customise it to your industry.
We have 8 years of experience in machine learning and automatic speech recognition. We develop applications and services for customers the same way we do for ourselves. To find out the cost of work and the development time frame for specific tasks, , and we will contact you directly.