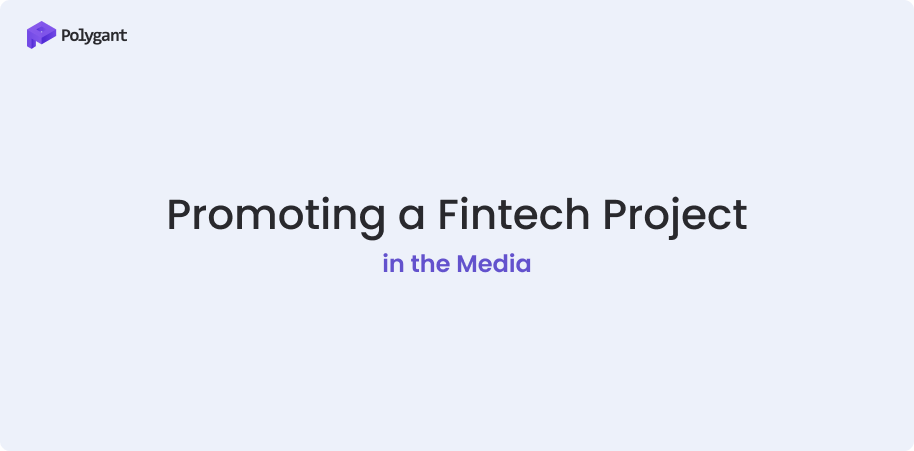 Media promotion is one of the ways to boost brand awareness and build a reputation of an expert company. All this has a positive effect on website traffic that will convert into potential customers.
Learning more about a new fintech company and its employees, clients are likely to trust the brand. Such familiarisation will contribute to sales and the revenue. The importance of maintaining a company's presence in the media can't be underestimated. That said, one needs an appropriate approach to media activities.

First steps
For starters, define the goal of your mass media campaign. Examples of tasks:
Driving readers of a famous publication to the website or social channels
Improving brand awareness so people know about the company by the moment it is founded
Receiving requests for further conversion into sales
Having outlined these goals, you can create a step-by-step plan and stick to it.

Types of promotion materials
In a bid to advertise a brand in the media, a fintech company decides to compose a promotional article. Format is king here. Let's discuss such popular content types as interview, case, and informational text.

Interview
When a company hugely relies on a personality (e.g. a financier, a banker, or a developer), an interview will be the best option. In the first materials, describe the following:
Entrepreneur's path
Company history
Product features
Opinion on a controversial matter
In the interview, the founder (or the executive) tells how they have become a fintech expert, and showcase their expertise in the matter. All this improves audience loyalty.

Case
A case is a specific process and its result. By describing a case, a fintech developer can share some noteworthy facts about their product: tell how they came up with the idea and brought it to life. A case describes the problems that people used to face, and how the project addressed them. This is how readers can understand how helpful the company is.
Composing a case is considered the most common way to demonstrate the expertise of a fintech entrepreneur. Products in this field are kind of closer to real life, since everyone deals with finance and technology every day.
In some cases, it makes sense to reshape this type of material into a case story. A case story is a narrative about a product that is intertwined with the story of the company or the main character of the publication.

Informational text
This is an article that is expected to be helpful and relevant to the target audience. The company, or its executive, is mentioned natively — by way of example. In most cases, an informational text consists of recommendations that can help readers get some benefits.
Example. A specialist explains what yield farming is, how one chooses DeFi tokens to farm, which platforms offer high yield. After that, the specialist demonstrates its DeFi platform that has all the problems resolved and gives one a green light to earning.
Informational texts often appear on third-party platforms that borrow them from the original source whether the company was featured. A successful material spreads on the web itself.

Places for promotional materials
Financial technology is one of the favourite topics among middle-size, industry-specific publications, and global-wide titles.
Business news: .
For entrepreneurs: .
For retailers: .
For financiers: .
News outlets: .
If we talk not just about major media but also local titles, there can be over a hundred publications in each category. Fintech is helpful business. This is why editors are eager to publish high-quality materials, no matter the scale of the original source.

Cryptocurrency media
If your company starts a cryptocurrency or blockchain project, we recommend that you get featured on the following global media platforms:
Hackernoon. Shares cutting-edge technology stories. Good content easily passes through the editorial board.
TechCrunch. Texts about startups, online business, and innovation. It may be harder and take longer to appear here.
Medium. This source is open to all topics, from banking products and blockchains to art and books. Moderators have minimum requirements.
Also consider thematic media that only focus on cryptocurrencies:
bitcoinist.com
blockonomi.com
coindesk.com
coinspeaker.com
cointelegraph.com
cryptoslate.com
dailycoin.com
decrypt.co
newsbtc.com
theblock.co
todayonchain.com
Platforms to choose
The number one tip here is that you don't hesitate when taking your first steps. Come to every single media outlet. That said, you should pick platforms wisely. Use these three criteria to make the best choice:
Number of users. The more people read a company's text in the media, the more potential customers and investors are likely to come.
Publishing rules. Some platforms don't allow adding a link to the company's website or social profiles, the others avoid partner materials. Some platforms don't charge anything for publishing, the others show their rates before they start discussing anything.
Relevant audience. Don't present your fintech project to people who are barely related to this industry. Neither should you think too straightforwardly and tell bank clients about your banking product. Sometimes potential customers can be found in a low-key group.
Remember one important thing when you pick a relevant audience. Smaller platforms where all readers are your potential customers are a way better option than major publications with mixed—though larger—groups of followers.

Preparing for a conversation with the editor
When submitting an article to editors, be sure to clearly state the purpose of the release. Provide details about your fintech project and be ready to answer questions. Don't send your proposal to corporate emails: they are already full of messages. Try to contact the editor directly.
Whether the editor's contact info is publicly available depends on the scale of the publication. In some cases, it is enough to read the publishing rules. In other cases, you will need to study the editorial policy and align with it. Rest assured, all the efforts you put into search will pay off.

Contacting editors
Follow these 4 rules when interacting with mass media editors:
Introduce yourself. Tell the editor who you are and what you do. Provide links to your website and social channels.
Explain the purpose of your contact. Share your intention to publish a text containing links to the company's website or social profiles.
Suggest topics. List what you can tell or be interviewed about, or which case you could analyse.
Present your best works. Showcasing is the easiest way to get positive feedback.
The editor may find your topic irrelevant, or they may want to talk to a famous speaker. Don't let such a dismissal ruin your motivation. Come to other titles until you find an eager partner.

Creating materials
It's barely possible to create helpful material without relevant experience. PR agencies collaborating with mass media are ready to help. It's important to make sure they have a specialist who is a fintech expert. Otherwise, the article will be lacking in depth.
Detail what you expect from the author, tell about your desire to show the company in the best light, but in a native manner. Recommendations from agency specialists may be very helpful. Be sure to listen to them.
Though we aren't a PR agency, we are well-versed in fintech, since we develop applications and services for this industry. Polygant specialists create thematic content on their own. Write to us on Telegram and tell us what an expert article should be devoted to. We will help you compose it and promote it in the media.
How to check a text
It would be a shame to invest in content only to see no payoff. You can prevent such an outcome if you check your text against the following criteria:
The heading looks relevant and catchy, making people want to read it to the end.
The main theme is fully developed.
The structure and format are maintained. The text is easy to read.
The text features thematic and visually appealing images.
The text has an intriguing introduction (it's impossible to add it on some platforms, so you can skip it there).
The value for readers (potential customers) is apparent.
Keywords, meta tags, and all other elements specified in the ToR, were added.
Links to the fintech project were added.
All rules specified in the editorial policy (which the editor should provide), are observed.
A promotional text is a product that comprises lots of ingredients turning it into an effective and appealing material.

Distribution
On the specified day, the text approved by the editors will appear on the main page or in the thematic section. At this moment, your company engages in distributing information about the material. This is what will help you attract more readers.
Here's what you should do:
Announce the material on your website. Example: "Interview with the fintech project founder released to unveil project specifics and release date."
Publish an announcement on social media. Use short videos, stories, and posts in the feed.
Tag other participants in a thematic post so they can share the post with their followers.
Utilise free platforms. Publish information about the article on thematic forums, blogs, and in communities.
Create a newsletter. If you already have a fan or client base, send them your material via email or social media.
No material can gain traction without proper distribution. Present it to your hot clients and advocates so information spreads to the target audience en masse.

Communication
On the platforms that allow comments, your company's representatives must respond to the messages from your readers. Use this opportunity to explain what isn't covered in the text.
Follow these three rules when interacting with readers:
Respond quickly. Try to reply in the first minutes after a comment pops up. It's critical to engage a reader as long as they are interested in the text. If your reader can't find answers they expect (which makes your text useless), they will forget about it in a few hours or days.
Be delicate. Even an angry comment deserves a friendly and kind response. Remember that it will be visible to those who like your brand. Delicacy always leaves a better impression.
Be a professional. Describe in detail what readers are interested in. This is another chance to demonstrate your expertise and acquire more customers.
If you or your employees can't be available 24/7, hire a remote relations specialist or outsource a crew to handle this task.

Analysing performance
Even a neat material can't guarantee a result. Be sure to evaluate the following indicators a few days after your text is released:
Number of visits to your website through in-text links
Number of requests to your company
Commenter moods and number of comments
Reach and views
Analysing a promotion campaign and evaluating a text's performance may be tricky, since not all platforms allow to study these indicators. Many websites hide statistics of published materials. In such a case, you will have to rely on your own capabilities.
Yet another important indicator is the number of sales or the amount of investment raised. (The nature of this indicator depends on your initial goals). Sometimes, instead of the given parameters, one analyses downloads of their fintech app or user activity with their product.
In fact, the one and the same text can bring 5 or over 1000 customers. A determining factor here is where you publish it and who will read it. What a fintech project has to do is prepare helpful content. And this is where it may need professional assistance.
Polygant is ready to be your partner. Our dedicated team is concerned with creating and distributing promotional materials, and interacting with readers. Use the form to contact us, so we can discuss promoting your company in the media.