When we talk about blockchain technology, we must differentiate between Public Blockchain and Distributed Ledger Technology. Each of these technologies has completely different models of financing and investment, although both of them are based on similar fundamental principles of the Blockchain concept.
Public Blockchain technology has become famous and financed due to the issuance of cryptocurrencies (such as Bitcoin, Ethereum, or Zcash). On the other hand, private blockchains are mainly financed by consortia of companies, especially in the financial and banking sectors, as well as venture capital. According to the World Economic Forum, 80% of banks are working on projects related to blockchains. In this article, giving an overview of the future capabilities of blockchain technology, we will talk about the most important aspects of the investment level of private blockchains.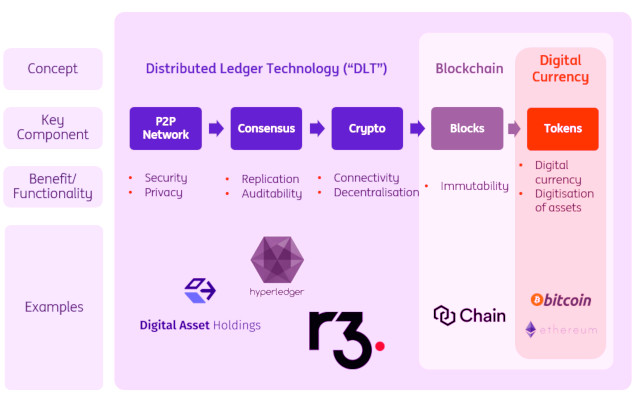 The financial sector looks to the future
Investments in private blockchains were made mainly by the financial and banking sectors. However, other fields are also exploring the opportunities offered by this new technology. Although in the last case, investments have not reached the level accumulated in the financial sector.
Today, this sector is best suited for the use of blockchains. In recent years, the fintech sector got the biggest boom, and the banks have been forced to invest in new technologies to protect their traditional business model from the growth of startups. However, it also happens that many of these fintech startups eventually cooperate or are associated with the same banks and large financial institutions.
Variety of private blockchain technologies
The most famous blockchain companies in the banking sector are R3, Chain, Digital Asset Holdings, Ripple, and Hyperledger. Ripple is not really a blockchain project, but rather a part of technologies that want to change the way of international money transfers, proposing to use its model for financial institutions.
R3 is an international obligation of the banking sector with more than 70 banks
R3 consortium released its own code for its platform, known as 'Corda', on 30 November 2016. Corda will be integrated into an open-source project Hyperledger after its official approval. The main goal of R3, working only on this technology during the year, is the development of the blockchain that allows to create and execute smart contracts between the financial institutions. Another important task is to research the new applications in the field of trade financing, digital identity, and digital asset exchange.
The team of R3 consists of highly qualified professionals who accept and recognize that there are still important gaps in Corda. However, they hope that there will be improvements in their model through the open source community.
Some banks that had initially supported R3, such as Banco Santander, Goldman Sachs, or Morgan Stanley abandoned this project without giving further explanation. R3 wanted to attract $200 million from participating banks for their second round of investments. Some believe that the team's demand to preserve 40% of the company prompted these banks not to participate. R3 is probably the most famous example of a private blockchain consortium, designed with noticeable banking and financial investments.
Chain
Chain is a San Francisco-based company that released its code one month ago. The network is supported by 9 banks and payment companies. Its private blockchain is designed for the applications with a large volume of transactions. The target investors of Chain were mainly institutional investors and venture companies. In three different rounds of funding, Chain received $43.7 million.
Digital Asset Holdings
Digital Asset Holdings is a company invested by banks and venture companies. It intends to focus its technological efforts on capital markets and stock exchanges, to improve the systems of compensation and settlement of financial products. Its CEO is a well-known investment banker and former employee of JP Morgan. He also participated in the establishment of Credit Default Swap (CDS). Digital Asset Holdings received $67.2 million in two rounds of funding led by such banks as Goldman Sachs, JP Morgan, and Citibank.
Ripple
Ripple doesn't use blockchain technology. Its goal is to develop a system that will reinvent the system of remittance and international transfers, as well as the disintermediated companies (such as SWIFT with its technology). Ripple obtained $93.6 million in the consistent rounds of funding, covered by banks and venture companies.
Hyperledger
Hyperledger is one of the most favourable projects for the creation of private blockchains without a particular industrial direction. This project, which involves numerous technology and consulting companies from around the world, is headed by Linux Foundation and managed as an open-source project.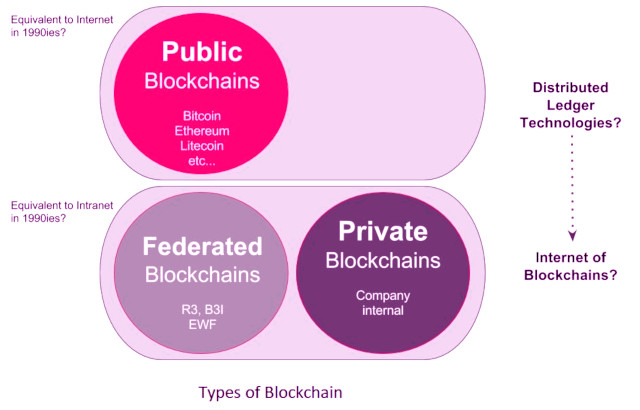 What is the business model of private block networks?
The business model of all these initiatives lies in creating a future standard for the appropriate areas. From developing and extending these private protocols, they could become business models on which the entire field would operate in the future. Financial and banking sectors set the direction for private blockchains and manage the trends that will have an impact on other fields. Among them are insurance, telecommunications, power sector, and many other fields that want to benefit from the blockchain technology.