Artificial Intelligence Applications for Business
The questions "what is AI" and "how can it affect an enterprise" are among the most acute and debated today. According to conclusions made by most experts, artificial intelligence (AI) gains traction — particularly in such sectors as services and finance. Professionals predict that the volume of investment in this area is to increase soon. In industry, AI-involving projects are also appearing.
By surveying enterprise representatives, the value of developing artificial intelligence for business was proven: more than 80% major companies throughout the globe already invest in development of this technology. Specialists forecast that every dollar invested in AI will return $1.98 within 5 years, and $2.86 within 10.



Artificial intelligence: areas of application
First and foremost, AI turned out to be beneficial in mass market operation — namely, in commerce, telecom, and banking. Chat bots can consult customers, answer their questions, or offer services. With that, they capture data, analyse them and then defines customer preferences and patterns. After that, these insights are used for demand forecasting or development of new offers. Such a proactive approach enables marketplaces all over the world to ensure one-third sales volume. As banking-sector employees report, more than a half of loan approvals are handled by robots.
Machine learning
Machine learning tools will allow for analyzing the existing data, enhancing input accuracy, and improve the quality of the processed data. This technology segments the market and offers customers additional products or services.
Machine learning: further reading…
Speech recognition
Voice service and speech analysis are one of the most common fields where speech recognition algorithms are involved. Artificial intelligence has evolved enough to replace most contact-center agents.
Speech recognition: further reading…
Image recognition
Image recognition enables analyzing customer demands and establishing reliable communication with the audience. AI-powered algorithms help consumers in choosing goods, and enterprises in boosting sales.
Image recognition: further reading…
AI for fintech
AI-based apps provide fintech enterprises with the ability to enhance services and compete or valuably interact with conventional financial organizations.
AI for fintech: further reading…
AI for trading
Artificial intelligence can assist traders in analyzing and processing market data, as well as in developing algorithms and strategies. For investors, AI can be valuable in giving investment recommendations or handling the portfolio.
AI for trading: further reading…
AI for marketing
SMM will be a piece of cake for AI, not to mention handling promotion campaigns. It will recommend the products or services relevant to customer needs. Also, AI will personalize advertising content and engage more customers.
AI for marketing: further reading…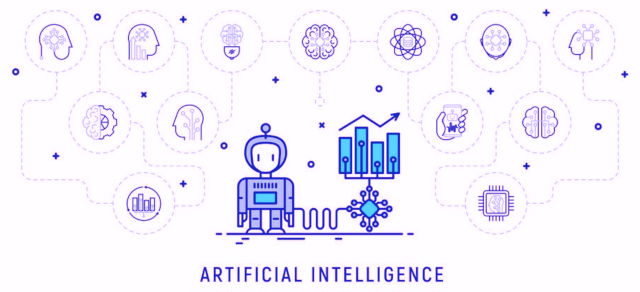 Apps and software for your business
As the pace of AI development is continuously gaining, it is inevitable that the enterprises will wonder how to implement and adopt this technology in their operation.
Those which use artificial intelligence intensely, will benefit from cost reduction and performance enhancement. The rest are likely to fail in competing and thus leave the market.
If you are already thinking over improving the workflow with the use of AI, Polygant will provide you with the most appropriate software and apps. To evaluate the scope and time of development and to get detailed information about services, please . Our engineers will contact your shortly.